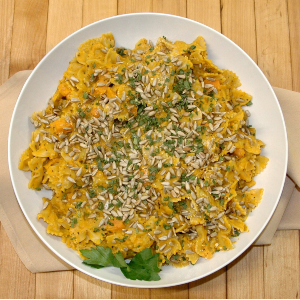 Ingredients:
1 pound Farfalle (bow tie) pasta
2T olive oil
2T butter
1 medium onion, diced
6 garlic cloves, minced
2T fresh sage, minced
2 tsp kosher salt
1 tsp black pepper
2 medium butternut squash
1- 10 oz bag of peeled, uncooked butternut squash cubes
½ cup mascarpone cheese
½ cup romano or parmesan cheese
¾ cup pine nuts, toasted
1/8 cup fresh chives, snipped
Directions:
Pre-heat oven to 350F. Cut the butternut squash in half, scoop out the seeds and place in a lightly oiled baking dish, cut side down. Add a little water. Roast until the squash is very tender, about 1 hour. Set aside to cool, then scoop out the tender flesh. Set aside. (This step can be done a day in advance.)
In a medium-sized saucepan, heat the olive oil and butter. Add the onions, garlic, and sage and cook over a low heat until the onions are tender, then add the salt and pepper. Add the cooled butternut squash and mix well.
With a food processor, puree the butternut squash mixture until smooth. Add some salt and pepper to taste, then return to the pan. Add the butternut squash cubes.
In a large pot of boiling water, cook the pasta until al dente, reserving about 2 -3 cups of the pasta cooking water. Put the pasta in a bowl and mix with a little olive oil to keep it from sticking.
Heat the butternut squash mixture over a low heat adding just enough pasta water to make it a smooth consistency. Mix in the mascarpone and parmesan cheese. Cook on medium heat until the cheeses are incorporated, adding pasta water if needed. Finally, add the cooked pasta and toss well, adding salt and black pepper to taste.
Transfer to a serving bowl, top with the pine nuts and chives, and enjoy!