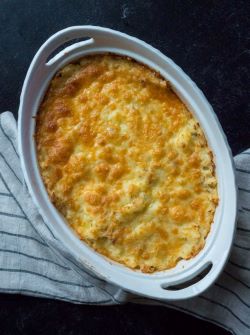 Also known as funeral potatoes, this rich and decadent "steakhouse" side dish is a great way to use up any leftover roasted or baked potatoes.
Pre-heat the oven to 350F.
Ingredients:
6 large potatoes, peeled and cooked until just tender
2 cups cottage cheese
1 cup sour cream
2 cloves of garlic, minced
1 tsp salt
½ cup red onion, minced
1 cup cheddar cheese
Butter
Directions:
Grate the potatoes or cut them into cubes. Toss with the cottage cheese, sour cream, garlic, and onion and turn out into a buttered casserole dish. Top with the cheese, dot with butter, and sprinkle the top lightly with paprika. Bake, covered, for about ½ hour. Uncover and bake for another 15 minutes or so until golden brown and bubbly.