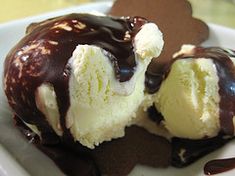 These creamy sauces are marvelous in sundaes – they've been lavishly poured over ice cream at Pendle Hill on New Year's Eve!
Butterscotch Sauce
In a saucepan, combine the following ingredients:
1/2 cup corn syrup
1 cup packed brown sugar
4 tablespoons butter
Bring to a boil. Boil until thickened to syrup consistency. Stir in:
Makes about 2 cups. Delicious warm!
Hot Fudge Sauce
Combine in a double boiler over hot water:
2 3/4 cups powdered sugar (confectioner's sugar)
1/2 cup (1 stick) butter
3/4 cup evaporated milk
Stir and cook slowly for 30 minutes. Add and stir until blended:
4 oz. unsweetened chocolate
Serve the sauce warm over ice cream. Store refrigerated. If it's too thick or grainy when you reheat it, add a little milk. Makes about 3 1/2 cups.