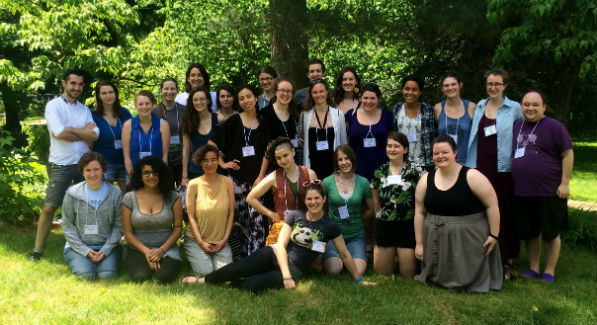 In the 5th year of the Continuing Revolution conference series, 47 young adults with elders and accomplices gathered together, engaging deeply with the theme of Integrity as a Radical Act, approaching it from the intersection of spirituality and activism.
Our six-day conference centered on the challenging, weighty, and important testimony of Integrity, with program leaders from around the continent coming to offer workshops on self-love and wholeness, conflict, integrity in social movements, how to use financial resources, redefining allyship and empowering difference, knowing yourself, using your gifts for change, narrative activism, and much more. (See the full conference schedule here.)
Participants came away feeling they had done deep, challenging, grounded work that will support them in their lives and activism. Here are some excerpts from the evaluations:
"I thoroughly enjoyed my time at this Continuing Revolution Conference and feel like I am walking away with the tools and skills necessary to apply my gifts in the wider world with love and support and guidance from my peers."
"Thanks to all the organizers & presenters! Such a spiritually grounding & enriching experience – exactly what my soul was craving."
"It can be difficult to meet other young adult Friends, and this was a great place to do it & to get connected to a larger Quaker community."
"Thank you, this conference has had a profound effect on the way I view integrity, Quakerism and myself. It has given me a newly found self-confidence that I am who I am meant to be. It has reinvigorated my desire to help others and use integrity to help change the world around me."
Though the dust has barely settled, plans are already in the works for the Continuing Revolution 2017 conference focused on the theme of Peace. If you have ideas for ways to approach this theme, potential speakers or tangible ways to engage with it, please contact kmcquail@pendlehill.org or agreulich@pendlehill.org.
Young adults – mark your calendars for June 2-7th, 2017!